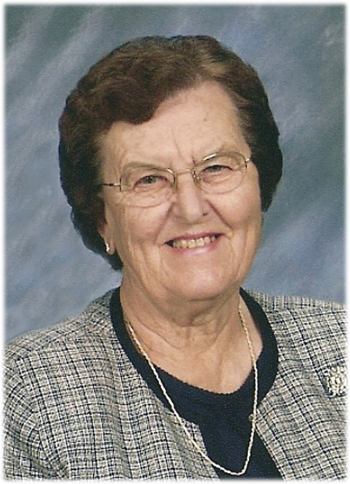 Lovella Schrader
Dates
December 14, 1929 - December 15, 2022

Obituary
Lovella Schrader, 93, of rural Emery, SD, went to her heavenly home Thursday, December 15, 2022, at Firesteel Healthcare Center in Mitchell after a short illness. The family will have a private burial at the Emery Community Cemetery. A memorial service will be held at First Baptist Church of Emery on Saturday, January 7, 2023, at 11:00 AM with the family present beginning at 10:00 AM. Arrangements are under the direction of Bittner Funeral Chapel.
Lovella Schrader was born December 14, 1929 on a farm southwest of Emery to Edward and Lydia (Koth) Triebwasser. She accepted Christ as her Savior and was baptized by Rev. J.C. Kranzler on April 5, 1942 and was received into the fellowship of the Plum Creek Baptist Church of rural Emery. She attended a country school in Hutchinson County and Taylor #5 near Emery. She learned a good work ethic as part of a large family and worked in the homes of several individuals before marriage.
On July 20, 1955, she married Milton Schrader at Plum Creek Baptist Church and then joined First Baptist Church of Emery. They grew up as neighbors and exchanged many letters while Milton was in the U.S. Army, stationed in Korea. They began farming southwest of Emery. They were blessed with two daughters. Lovella enjoyed family gatherings, rides through the countryside, Christian quartet music, cooking, gardening, and helping wherever she could in their farming operation. She and her husband farmed together for 60 years and continued to live on the farm after retirement. She liked seeing the change of seasons and especially enjoyed hearing the meadowlarks.
Lovella saw many changes through her 93 years, from growing up without electricity or indoor plumbing, going through the Great Depression and the Dirty Thirties, to later enjoying many of the inventions that made life easier and more comfortable. The Schraders spent a number of winters in South Texas where their daughter, Milton's parents, and his sister and family lived.
Grateful for having shared in Lovella's life are her husband, Milton of their home on the farm; daughter Glenda (Tim) Hansen of Mitchell; step grandchildren, Rashelle (Jason) Burchfield of North Richland Hills, TX, Danica (Aaron) Esparza of Weatherford, TX, and Dustin (Leighanne) Hansen of Allen, OK; step great-grandchildren: Kaden, Aubrey, Trey, Raygan, Samantha, and Kenna; sisters, Mabel Triebwasser and Geraldine Rickmeyer of Mitchell; sisters-in-law, Wilma Triebwasser of Dell Rapids, SD, Evelyn Voss of Benbrook, TX, and Jane Schrader of Watertown, SD; as well as numerous nieces and nephews.
She was preceded in death by her daughter, Melinda Schrader who passed away from cancer in 2018; her parents; four sisters: Leona Frey, Bernitha Triebwasser, Lucille Klock, and Irene Triebwasser; three brothers: Kenneth, Leland, and Eldon in infancy; sister-in-law, Kathy Triebwasser; and brothers-in-law: Fred Klock, Harm Frey, Earl Rickmeyer and Donald Schrader.
Visitation(s)
Date
Saturday, January 7, 2023
Time
10:00 AM - 11:00 AM
Location
First Baptist Church
630 1st Ave
Emery, SD 57332
Service
Date
Saturday, January 7, 2023
Time
11:00 AM
Location
First Baptist Church
630 1st Ave
Emery, SD 57332
Cemetery
Emery Community Cemetery
Emery, SD